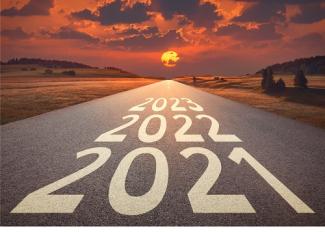 Looking Ahead to 2021 and Beyond
The following is based on Vanguard's December 2020 report: Economic and Market Outlook for 2021: Approaching the Dawn.
While we are experiencing unprecedented levels of COVID-19 cases and deaths that will likely continue into 2021, we now have at least one fully FDA-approved vaccine (Pfizer) with more on the way along with substantial improvements in the treatment of severe cases. For 2021, Vanguard projects 5% GDP growth for both the U.S. and the Eurozone, reflecting a continued recovery from the downturn of 2020.
The fight against the pandemic involved unprecedented levels of government fiscal spending and aggressive monetary policy from central banks. While there does not appear to be any immediate threat of inflation, it is worth considering over the next decade, especially if these reactions to crises become the norm.
On a year-to-date basis as of 12/14/2020, the Vanguard Total Stock Market Index Fund (VTSAX) is up 16.6%. Given all that has transpired this year, we find that to be remarkable, even if it is attributable to the extremely accommodative Federal Reserve policies. The rest of the world was up 7.2%, based on the Vanguard Total International Stock Index Fund (VTIAX), but most of that gain was the result of a weaker dollar.
According to Vanguard, "Our fair-value stock projections continue to reveal a global equity market that is neither grossly overvalued nor likely to provide such outsized returns going forward." Based on the Vanguard Capital Markets Model®, the expected return for US equities over the next decade is centered in the 3.7% to 5.7% range with higher returns for value stocks vs. growth stocks. For the rest of the world's equities, the range is 7.0% to 9.0%, which makes sense from both a valuation and reversion-to-the-mean perspective. The returns of international and especially emerging market stocks are subject to higher volatility from currency and political risks. For global equities, Vanguard assesses the probability of a 10% correction over the next three years at about 42% and the probability of a 20% or greater bear market at about 15%.
Constrained by interest rates that were low pre-pandemic and are now even lower, Vanguard's projected returns for US aggregate bonds (government and investment-grade corporate) are 0.7% to 1.7%.  Yes, we still advocate holding bonds as part of a diversified and balanced portfolio.
In closing, we wish our clients and plan participants Happy Holidays and a great year in 2021.