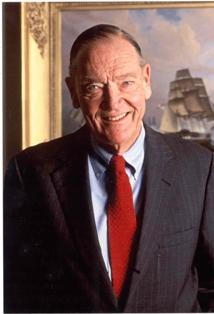 The investing world lost one of its luminaries today with the passing of the legendary John Bogle, the founder of Vanguard and a pioneer of bringing low-cost index investing to ordinary investors. When he started Vanguard in 1975 with a revolutionary idea that an investment company should be owned by its investors, Bogle met fierce resistance with aspersions cast such as "Bogle's Folly." Nevertheless, he persisted, and thankfully so. Here are some of our favorite quotes from St. Jack.
"In mutual funds you don't get what you pay for. You get what you don't pay for." (2/2/2005, "The World Money Show", Orlando, FL)
"Don't look for the needle in the haystack. Just buy the haystack." (The Little Book of Common Sense Investing: The Only Way to Guarantee Your Fair Share of Stock Market Returns, p. 74, John Wiley and Sons, 2010)
"The historical data support one conclusion with unusual force: To invest with success, you must be a long-term investor." (Common Sense on Mutual Funds, p.7, John Wiley & Sons, 2010)
"On balance, the financial system subtracts value from society." (Enough: True Measures of Money, Business, and Life, John Wiley & Sons, 2008)
"The most important of these rules is the first one: the eternal law of reversion to the mean (RTM) in the financial markets." (The Clash of Cultures: Investment vs. Speculation, John Wiley & Sons, 2012)
At Clarity Capital Advisors, we will always remember John Bogle with the greatest respect and admiration. He is truly one of the giants on whose shoulders we stand.